Tony LaRussa and Building Trust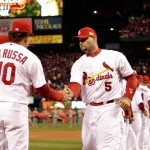 TONY LA RUSSA
has established a legacy unmatched in MLB baseball history. He is the only manager to have won multiple pennants in both the American and National Leagues. He is one of two managers to have won a World Series in both the American and National Leagues. La Russa won the AL Manager of the Year Award three times (1983, 1988, 1992) and NL Manager of the year (2002) once. He is a winner and has led every team he was managed to the playoffs. He started out as a manager within the Chicago White Sox organization where we led them to the 1983 playoffs. La Russa became a household name with the Oakland Athletics in the late 1980′s and early 1990′s. He led the A's to three AL Pennants and the World Series Championship in 1989.  After leaving the A's, La Russa has spent 16 seasons (1996 to 2011) with the St. Louis Cardinals. He has led the Cardinals to the playoffs 9 times, won 3 NL Pennants, and 2 World Series Championships. Recently retired, La Russa leaves as a 3-time World Series Champion (1989, 2006, 2011). He is also the third all-time winningest manager in MLB history.
La Russa's winning record speaks for itself. However, his ability to build trust within his teams is a major reason for his success. Many of his former players loved playing for him. La Russa was able to get the best out of his teams by establishing trust in critical situations. Building trust is essential in getting teams to perform at maximal level.
No related posts.
Related posts brought to you by Yet Another Related Posts Plugin.