Mike Tomlin's Passionate Approach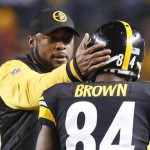 Mike Tomlin has been the head coach of the Pittsburgh Steelers for the past 9 years. Coach Tomlin has led his Steelers to two Super Bowl appearances and a victory in Super Bowl XLIII. His commitment to excellence and passion for the game of football sets him apart as an elite NFL coach.
No related posts.
Related posts brought to you by Yet Another Related Posts Plugin.