Erik Spoelstra's Years of Commitment Pay Off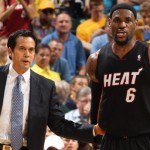 ERIK SPOELSTRA
has paid the price in reaching the pinnacle of professional basketball. He is the first Asian-American head coach in all four major United States sports (basketball, football, baseball, and hockey). His Miami Heat won the NBA Championship in 2012. Though his father was an NBA executive for several teams, Spoelstra started out as a video coordinator for the Miami Heat in 1995. Thereafter, he spent a total of 12 years in the Miami Heat organization working various jobs until he was hired as head coach in 2008.This level of commitment has proven to pay off as he has become an NBA championship head coach.
Spoelstra was mentored by the great Pat Riley. He spent years in the system under Riley learning intricate details and slowly being groomed as a head coach. Spoelstra was an assistant coach for the 2006 NBA champion Miami Heat team under Pat Riley led by Dwayne Wade and Shaquille O' Neal. Two years later, Spoelstra took over for his mentor and immediately led the Heat back to the playoffs. In 2010, the Miami Heat hit the jackpot in free agency and landed Lebron James and Chris Bosh to go with mainstay Dwayne Wade. Coaching this super trio comes with an enormous amount of pressure. Spoelstra faced an almost certain lose-lose situation in terms of how he would be perceived as a coach. If the Miami Heat won they were supposed to. If they lost, maybe it was because of coaching. Could Coach Spoelstra manage these superstar egos? Well, Spoelstra has embraced these challenges and produced. The Miami Heat have been in the NBA Finals the last two seasons and won the NBA championship in 2012. Spoelstra is on top of the NBA world and has earned his spot by remaining loyal to the organization that gave him a chance and working his way up the coaching latter.
No related posts.
Related posts brought to you by Yet Another Related Posts Plugin.